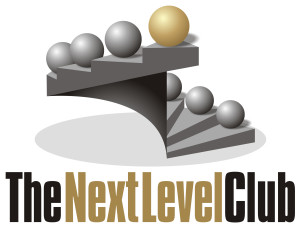 The Next Level Club is not your normal, run-of-the-mill leads group. It is a facilitator-run group that is the perfect combination of a referral group, training session and mastermind session that we have ever experienced. The goal of the group is help the members Double the Rate at which they Double their Business.
OUR WHY (WHY WE'RE DOING THIS)
We believe that it is very lonely and frustrating being a business owner or senior executive today. We believe that it is this isolation, insular thinking and stagnation that cause business owners/senior executives to have major blind spots and make poor decisions.
We believe that business owners and executives need a combination of four things to be more successful and take their businesses/careers to the next level:
a strong alliance network of strategic referral partners.
people they trust, respect and like to provide valuable input into the way they operate their business or business units.
accountability partners to hold them accountable for their actions matching their intentions.
continued learning opportunities to evolve and grow.
We believe that today's so-called leads groups are broken. They either serve the needs of the organization operating them, but not their members, or they don't hold the members accountable enough for helping each other, or they don't provide meaningful learning opportunities or some combination of all the above. At The Next Level Club, we believe we have cracked the code on the ideal club… one that can truly help its members take their businesses/careers to the next level.
Each meeting consists of:
members learning about each other's businesses so they can truly trust one another and provide warm referrals to each other
a business-building strategy or tactic that we train the group on
a mastermind session on an issue(s) that members are having difficulty overcoming, and then
each person pledges what they will do between meetings to build their business and we and the group holds that person accountable at the next session for taking the appropriate actions on that goal
New Group forming soon. Please contact us for details.